How to choose the best hydration pack for you
Zip closure

1.PERFECT SET - Included 70-Ounce (2 Liter) BPA FREE food grade hydration bladder, test report will be sent to your e-mail

2.THERMAL INSULATION - With the insulated bladder compartment, your drink can be kept cool for up to 4 hours, that's cool!

3.GOOD VOLUME - Includes 3 storage compartments that will fit your clothes, keys, purses, phones etc. the front stretch mesh pockets allows you to pack even more on your hike

4.100% LEAKAGE PROOF DESIGN -The opening is large design, you will never be bothered to dry the bladder as the screw one, just bottom up, it will dry itself, with click in connection instead of traditional screw one, it will never get loose and causing leakage
PERFECT OUTDOOR GEAR: Padded shoulder straps, breathable system and lightweight design are the perfect tool for outdoor sports, Mubasel Gear offer 60 days 100% Satisfaction Guarantee of the pack and free replacement of the bladder.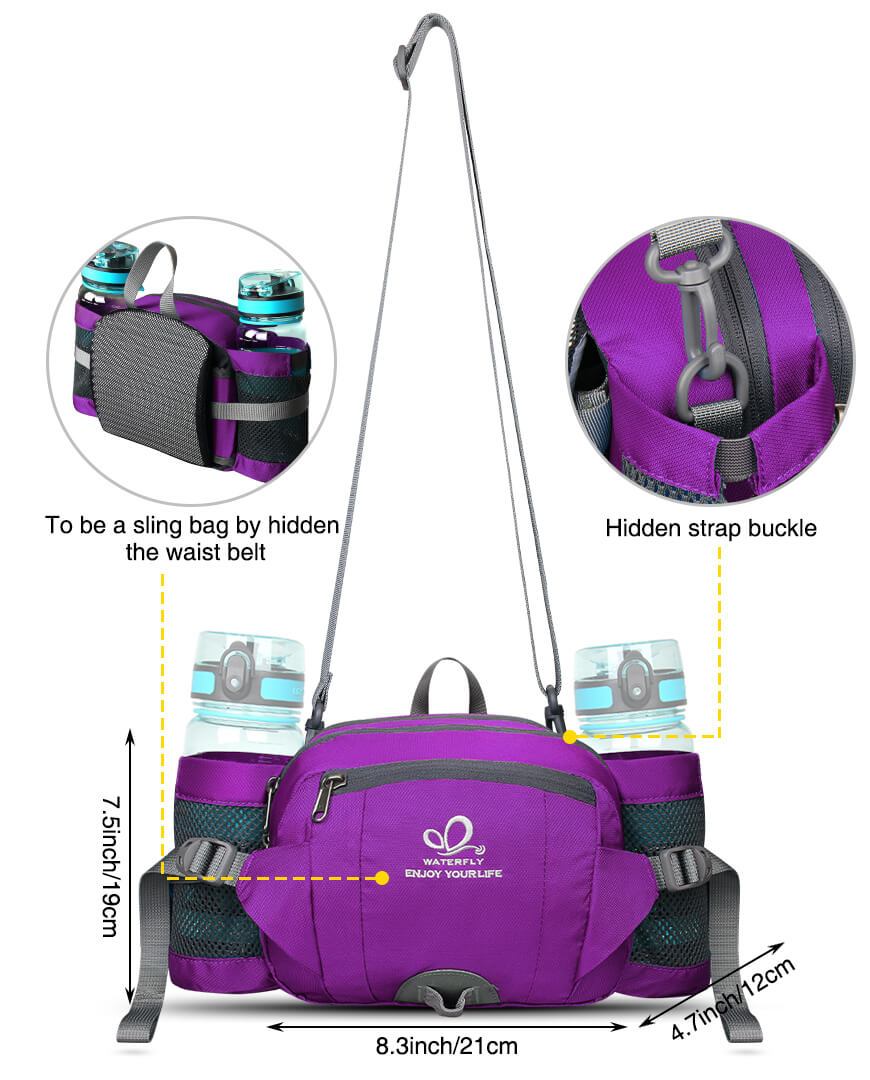 There isn't one perfect hydration pack for everyone, since the one you choose will depend on what you need it for. Here's what to consider:
✔️ Capacity: The most important feature of any hydration pack is its storage space. Smaller packs may only have 1-liter bladders that store water and a few small pockets, while others may have bladders that hold up to 3 liters of water with space for other gear like your phone and an extra shirt.
Determine how much storage you really need by thinking about your outdoor adventures, Sheu explains. If you're generally out all day, go for a larger size; but if you're only planning on being on the move for a couple of hours, pick a smaller size—you'll be glad you aren't lugging around too much. "Try to go for the lightest possible hydration pack that you can because you want to cut down on extra baggage weight, especially when you're running and hiking; you want to feel as light as possible," Sheu adds.
✔️ The right fit: Hydration packs are available in many forms, including backpacks, vests, belts, and waist-bags. If you're running, you'll probably want to opt for a hydration pack in backpack or vest form. They're easier to move in and won't weigh you down, Sheu says. Hydration packs that go around your waist are more likely to bounce, so they're better for biking and walking, since your body jostles less (cyclists, though, might prefer a backpack or a waist pack that sits on the lower back rather than in the front).
However, no matter what activity you're doing, "find one that has a good snug fit, and that has some level of bounce resistance," Sheu advises. Otherwise, the pack might rub against the skin, chafe, or cause general discomfort.
✔️ Breathable materials: "It doesn't matter what long-distance activity you're doing; the material needs to be lightweight, breathable, chafe-free, and waterproof," Sheu says. Look for nylon, polyester, vinyl, or mesh fabrics. These breathable materials won't feel heavy and won't get soggy in the rain.

Ready to find the best one for your outdoor adventure? Ahead, shop top-rated hydration packs for long-distance walkers, cyclists, runners, and hikers that are worth your money.